What is Let's Go!?
Let's Go! is a nationally recognized childhood obesity prevention program. Our goal is to increase physical activity and healthy eating for children from birth to 18 through policy and environmental change. Let's Go! works in six settings to reach families where they live, learn, work and play to reinforce the importance of healthy eating and physical activity.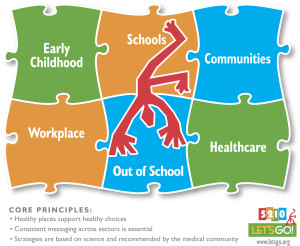 The 5-2-1-0 message is used consistently across all settings. This consistent message is an important part of our strategy in helping people make healthy eating and physical activity choices.


Let's Go!, a program of The Barbara Bush Children's Hospital at Maine Medical Center, is implemented in partnership with MaineHealth. In addition, Let's Go! and Maine CDC/DHHS have engaged in a public private partnership to improve the health of youth and families through the work of the Healthy Maine Partnerships.
While we primarily work in the state of Maine, we have partnerships all over the United States. If you or your organization is outside of Maine and you are interested in using our program, click here for more information.