Who is Redy?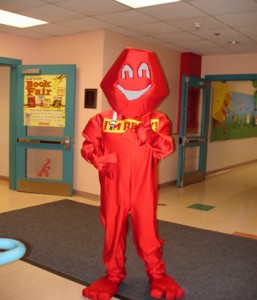 Redy is native Mainer and has lived in the Portland area all his life. He is the mascot and spokesperson for Let's Go! and the 5-2-1-0 message. Redy's favorite foods are fruits and vegetables, especially apples, blueberries, and green peppers. He loves doing cartwheels, but is also very good at jumping rope and playing Frisbee. He's also a big fan of the Nintendo Wii and the Wii Fit (his favorite games are baseball and the hula hoop). He likes to cool down with a nice refreshing bottle of water after a long day of exercising! Redy can be seen around town promoting exercise and good eating habits. Look for his logo spray-painted on walking paths at schools, businesses, after school programs, and child care sites!
– Biography contributed by students at Mahoney Middle School in South Portland, ME.
Interested in having Redy come to your event? Contact your local Let's Go! partner.