Evaluating Effectiveness

The Let's Go! program includes a strong evaluation component to track program performance and measure impact. Let's Go!'s theory of change is based on a social-ecological framework of behavior change that is rooted in public health practice. The social-ecologic model of change acknowledges that people's behaviors are influenced by many factors including family, friends, local surroundings, built environment and community. In order to bring about behavior change, the supporting environments and policies must be changed to make it easier for people in those environments to make the healthy choice.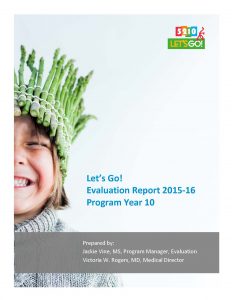 The Let's Go! evaluation has three major components:
Tracking short term implementation of program strategies for environmental and policy change
Monitoring longer term changes in awareness and behaviors
For more info view our annual reports or read our most recent Evaluation Report.