Let's Go! 5-2-1-0
Let's Go! is helping kids and families eat healthy and be active. We understand it's important to have a consistent message about healthy habits where you live, learn, work and play. So we partner with teachers, doctors, child care providers, and community organizations to help share the same four healthy habits of "5 2 1 0" everyday:
5 – fruits and veggies
2 – hours or less of recreational screen time*
1 – hour or more of physical activity
0 – sugary drinks, more water and low-fat milk
* Keep TV/computer out of bedroom. No screen time under the age of 2.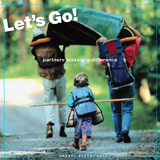 Click on image
to view online.
   2013 Annual Report   Download