Authored By Karen Schebaum
In the Summer I do a pretty good job on fruit and vegetable consumption. In Winters past I really struggled with my fruit and vegetable consumption. There are many vegetables served cooked that I just can't stand—and believe me, I've tried! Here are a few ways I'm fitting 5 a day into my Winter routine:
Three servings at lunch: Every work day I have a large grapefruit with my lunch (1 large grapefruit equals two servings). This gives me a delicious dose of Vitamin C and it ensures I have a brief break while I carve up the grapefruit. I also have a glass of low-sodium 100% vegetable juice. Whole vegetables and fruit are preferable to juice—but as a vegetable avoider this helps me fulfill my daily nutritional needs.
One serving as a snack: I have an apple or a Clementine and low-fat string cheese as a snack.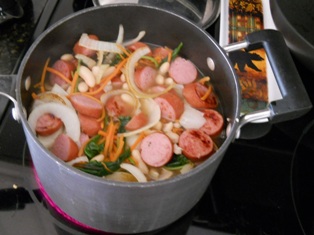 One serving—or more—at dinner: Most of our Winter meals are one pot meals—and one pot meals are the perfect vehicle for extra vegetables. I often use frozen and canned vegetables. I find I don't mind the taste even if I don't like the individual vegetables. For example:
I started with a basic white bean and sausage soup and added some salad supplies that were not long for this world—bagged shredded carrot and a bagged baby kale and spinach mix.
For a favorite white bean and tomato one pot meal that I've been making for years I finally thought to add some (but not too much) kale — and I was totally fine with it.
 If I can do it, you can too! What's your way to five a day?
For tips on ensuring you and your family get 5 a day visit our Resources for Parents webpage. Check out our "5" Brochure and our Healthy Favorites cookbook.
Karen Schebaum is a manager at the Kids CO-OP, Barbara Bush Children's Hospital at Maine Medical Center – Home Office for Let's Go!.