Authored By Karen Schebaum
How can I make healthy meals quickly each evening when I've worked all day? It's a question I read and hear frequently. Well, I finally figured this one out! The answer for me: I often don't, at least not in the Winter. I've repeatedly proven to myself that when I walk in the door after work wondering what to do about dinner, I will almost always reach for prepared or partially prepared items to put together a meal. Some evenings this turns out healthier than others.
Here's the only way I consistently serve the healthy meals I aim for—I call it "The Sunday Blitz." It works like this:
On Friday or Saturday I assess our current pantry and freezer contents and make a grocery list for any items needed to complete two to four meals. I also move items from the freezer that need to thaw in the fridge. I go grocery shopping if needed.
On Sunday I make one to four meals either simultaneously, or one after the other, usually using a crock-pot for one or two meals. Many of these are soups or other one pot meals.
I line up food containers on the counter and the meals go directly in to them in meal sized portions. Most of those meals then go in the freezer.
I survey my frozen meal options from previous Sunday Blitz and move one or two to the fridge to thaw for use Monday through Thursday.
Sometimes I'm really efficient and get four meals cooked in one day. Then I get to skip, or greatly reduce, the Sunday Blitz one or two Sundays a month. Here are a few of my lessons learned: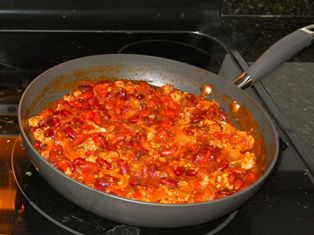 I always cook two or three packages of ground turkey at a time, never just one. It's not worth spending the time three times! Then I divvy it up for chili, taco bowls, and freezing it for creating future meals.
I fully embrace frozen vegetables, or rinsed canned vegetables, and sneak them into every soup and one pot meal I make. This just makes my life a whole lot simpler. And it helps me get to 5 a day.
I've learned the hard way to usually avoid having only two meals I alternate all week. Otherwise we get bored and resentful that we have to eat it again.
I also rarely take leftovers to work for lunch—for the same reason. My husband makes us sandwiches and throws in a fruit or vegetable instead.
Yes, our kitchen is a mess during and after this process, but even my neat freak husband concedes that it's worth it. How do you slay the work week dinner dragon?
Check out a few of Let's Go!'s Healthy Favorites.
Karen Schebaum is a manager at the Kids CO-OP, Barbara Bush Children's Hospital at Maine Medical Center – Home Office for Let's Go!.