By now we're typically in the thick of winter, with snow as the mainstay of our daily forecast. But when there aren't inches of powder to cover the downhill slopes, cushion the sledding hill, and provide for our backyard snowmen, what are we left to do to get our families outdoors and active? Break out the adventure shoes, of course! The warmer temperatures and limited snowfall make it much easier to take advantage of an abundance of winter walking and hiking trails with gear with just a few tips and tools from 5-2-1-0 Let's Go!
Whether you're setting out for a long, flat walk or a steeper climb, get your kids involved in planning and executing your winter adventure to make that hour or more of daily activity especially fun. The idea of setting out and exploring (instead of, say, miles of walking or hiking) tends to get the whole family excited about an active experience outside.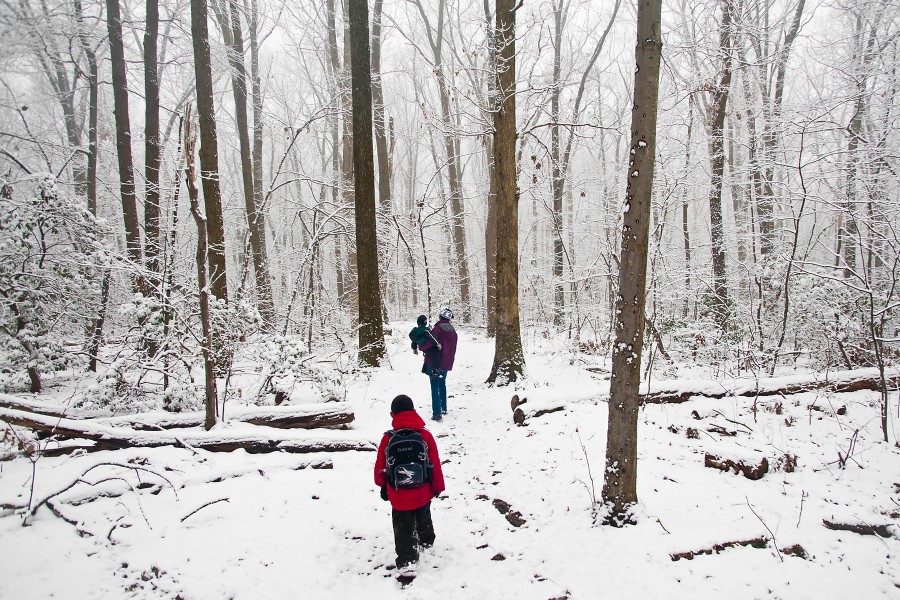 Before the Hike 
Make a plan! Regardless of the location and duration of your excursion, it's important to plan out where you want to go, what time of day, and what supplies you'll need. If your group is old enough, you can discuss what everyone wants out of the activity—is it rolling terrain along the coast or a forested uphill climb to an open lookout?—and agree on a course of action. Just like true explorers!
Have a trail picked out and understand the general route
Confirm the trail is open and conditions are safe with a quick online search
Always check the weather before you leave, even up until the moment you walk out the door! The weather changes quickly—especially in Maine—and you don't want to be caught unprepared 
Put together a trail pack (more below!)
If you're planning a hike, tell a friend or family member who isn't going before you take off
Picking A Spot – There are tons of resources online if you want help choosing a destination. A couple of our favorites include: 
http://www.mainetrailfinder.com/: An interactive site with detailed trail descriptions and reviews for hiking options of all difficulty levels across the state
healthymainewalks.com: With a focus on walks, this site includes a comprehensive list of statewide options that are accessible for all ages and fitness levels
maine.gov/doc/parks: A site filled with information about every state park and public land in Maine, including events
What to Wear
Layers! You want your layers to trap heat between them to keep you warm, so try and avoid cotton as it soaks up sweat quickly and has no insulating qualities. It's easy and fun for kids to remember winter activity dressing with the 3 "W" layers:
Wicking: The purpose of the wicking layer is to pull moisture away from your body and keep you dry. Look for fairly thin silk, polyester, or polypropylene fabrics.
Warming: The warmth layer should add insulation and space for warm air to stay trapped. Good options include wool, fleece, or even light down.
Weatherproof: The third and outermost layer should protect you against wind, rain, or snow. Your first two layers have created warm pockets of air, and the weatherproof layer ensures they don't escape. A classic shell or rain jacket is a great option.  
Now that you've mastered the basics of layering, be sure to keep your head, hands, and toes happy as well. Wear wool socks, carry a pair of warm gloves, and make sure to wear a cozy winter hat to keep heat from escaping up top!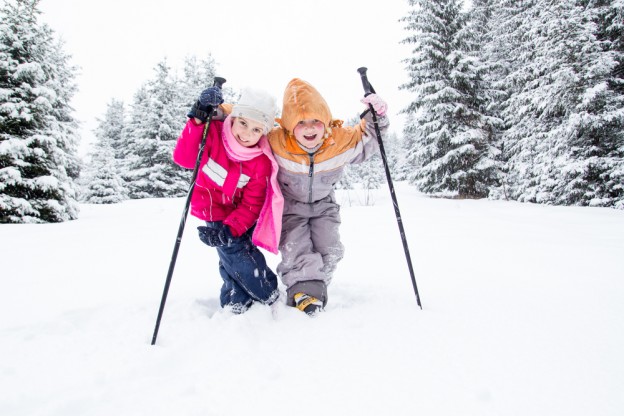 What to Pack
Explorer Tools: Although a map and compass are essentials for any hiker, they are also fun learning tools for kids even if you aren't going on a serious expedition. Use these items before your adventure to explore where you're going and how you'll find your way. Colorful trail blazes (those shaped nailed to trees) will also help guide the way.
It's always a good idea to bring some first aid items, and depending on the depth of your journey, waterproof matches, a pocket knife, and whistle.
Explorer Fuel: Pack lots of healthy, high-calorie snacks like dried fruit, jerky, apples with peanut butter, and nuts. It's also a great idea to carry a thermos of apple cider, hot chocolate, or soup to sip from time to time. It'll help keep your vital organs warm and your spirits high!  
A quick adventure tip: Instead of storing snacks in a backpack, keep your fuel inside jacket pockets. Your body will generate enough heat to prevent your food from freezing!
Staying Hydrated
Although it may sound counter-intuitive, it's actually easier to experience dehydration in the winter than in the summer thanks to factors including dry winter air. Let's Go! recently detailed the potential dangers of winter dehydration and why it often goes unnoticed . Pack more water than you think you'll need, and keep these other tips in mind for winter activities: 
If you're storing water bottles in your backpack during a very cold day, you may need to use an old wool sock to prevent them from freezing! 
Another trick: turn the bottle upside down to prevent the water from freezing at the neck. 
We like to bring one bottle with cool water, and one thermos with a hot beverage or soup!
Have Fun
With a clear plan of action, and everything you need for a great winter adventure, enjoy the unique experience and perspective of getting on the trails in the winter! Snap a photo and share with us on Facebook @5210LetsGo! We love to see all the ways you stay active this winter!