Let's Go! thrives thanks to our partners. We're lucky to have support from the Maine State Bureau of Parks and Lands and Harvard Pilgrim Health Care Foundation. This guest blog from one partner celebrates another partner. This is how communities come together to effect change.
Authored by Karen Voci, President, Harvard Pilgrim Health Care Foundation 
Summer is here and that means long hot sunny days and cool nights – and lots of family adventures along the way!
There are so many ways to keep active during the summer – swimming, hiking, bike riding, running.  One place you can experience all of these activities is at a Maine State Park.
Harvard Pilgrim Health Care Foundation has partnered with Let'sGo! and the Maine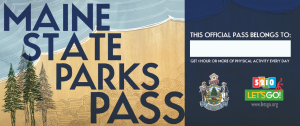 Department of Agriculture, Conservation and Forestry's Bureau of Parks and Lands to make 10,000 Maine State Parks passes available to patients at primary care practices affiliated with Let'sGo!. The free pass is accepted at any of Maine's 48 state parks and historic sites (with the exception of Baxter State Park), and it's good through the end of the year. No excuses!
 We want to help prevent childhood obesity by creating healthy opportunities for children and their family to stay active. Through the Foundation's support, Let's Go! is encouraging doctors to promote the 5-2-1-0 messaging with their patients, and focus on ways to build a lifetime of wellness. These free park passes make it affordable for families to enjoy the great outdoors and embrace an active and healthy way of life.
Enjoying the great Maine outdoors – its beautiful natural resources and its many recreational opportunities – is a gift.  Keep your family healthy all summer long starting with a fun visit to a Maine State Park.  And don't forget the healthy snacks!