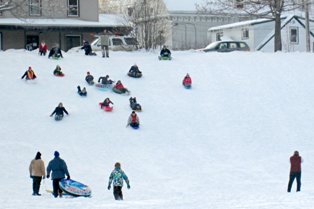 Authored by Laura Howell,
Let's Go! Kennebec Site Coordinator
On January 5, over 100 people gathered at Green St. Park in the South End of Waterville for WinterFest, an event sponsored by Inland Hospital's Let's Go! Family Fun Series. The Let's Go! Family Fun Series is a collaboration of Inland Hospital, the Alfond Youth Center, Waterville Parks & Recreation, and other local organizations. The series features free, monthly family-friendly events in the greater Waterville area.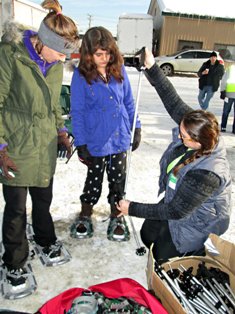 Families came from all over Northern-Kennebec County with sleds ready to go, and the large hill located at the park was the scene of a fun-filled active afternoon.  The Central Maine Ski Club donated sleds for the children to use, and they plowed a track in the shape of a figure-8 in the snow for skiing and snowshoeing. Cross-country skis as well as an abundance of family-friendly snowshoes provided by Healthy Hometowns were put to great use all afternoon. Many of the families and children who used them had never skied before and ending up loving it.  A StoryWalk featuring the book From Head to Toe by Eric Carle demonstrated that even story time could be an active time for families!  Soup and hot apple cider provided some warmth and sustenance for participants while taking a break from the action. The refreshments donated by Inland were served by friendly South End Neighborhood Association (SENA) volunteers.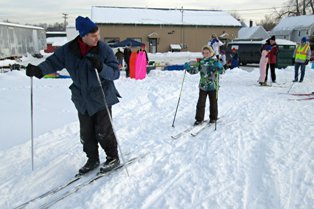 The event could not have been possible without the support of local partners and many enthusiastic volunteers. For more information about the Family Fun Series or to register your family, check out the Inland website, inlandhospital.org or contact Ellen Wells, Community Wellness Coordinator at Inland Hospital at ewells@emhs.orgor 861-3292.