Authored by Van Beckman, Let's Go! York County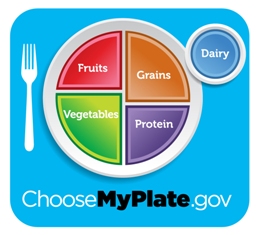 Incorporating nutrition education and physical activity into a single school day can be a challenge for some schools, but one York County teacher has found a way to work both into the same lesson. Diane Dyer, PE instructor at Kennebunk Elementary and "Redy" Award-winning Let's Go! champion, wanted to use her Community Transformation Grant (CTG) stipend in a creative way that would allow her to promote the MyPlate nutritional guidelines in her curriculum; the trick, though, she told me, was to "make it fun"! After some experimenting, she arrived at the ambitious game she calls "Money for MyPlate," which involves the whole gym class alternately getting active and working on fine motor and problem solving skills through the building of giant jigsaw puzzles. These puzzles (purchased from Sport Time, along with the other equipment used) feature the MyPlate guidelines prominently, encouraging students to eat more fruits and veggies, "avoid oversized portions," and seek out locally-sourced food. To obtain the pieces for their puzzles, players must earn "MyPlate money" by visiting one of four stations around the gym and doing various activities as prompted by an assortment of FitDeck cards. The result is a 15-minute frenzy of running, jumping, moving, stretching, balancing, puzzle-solving, and—yes—huge fun! Diane's students love playing the game, and greeted me enthusiastically when I arrived at one class to capture the mayhem on video. At the end of the period, Diane made sure to have everybody thank the organizations who ultimately made it possible – the CTG program and the support of Let's Go!.
Check out the video below:
Kennebunk Elementary – Money for MyPlate Game from 5210 Let's Go! on Vimeo.