Authored by Emily Cooke, RDN, LD
Lots of Tots Child Care reports that 5-2-1-0 Goes to Child Care (5-2-1-0 GTCC) has "totally given us the tools and the incentives to not only promote health and nutrition within our program, but within the community as well."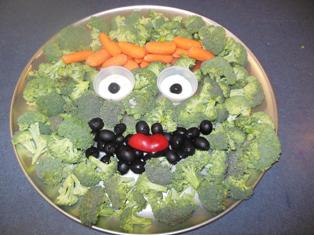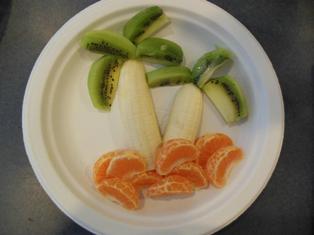 Owner, Penni Theriault, says being involved with 5-2-1-0 GTCC has "changed the way we look at doing our menu". One change they've made is to introduce new healthy foods to the kids through theme weeks. For example they recently had a tropical theme week. "We learned about tropical fruits and the children had the opportunity to try foods that they might not have otherwise tried. Presentation is key, the kids and we have also discovered that if they help make it they are more apt to try it. [We also had a] Sesame Street week and found a really neat way to present fruits and vegetables to the children, it has become a work of art!…Parents are amazed that their children are eating the healthy choices that we are offering and get a huge kick out of seeing the pictures and the fun way that we have been able to present these healthy food choices."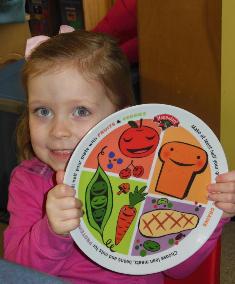 Lots of Tots has also been collecting food boxes so the children can 'shop' for healthy food choices and the activity is having an impact even at home. "Parents have even shared with us that it's making a difference when they grocery shop with their children, the kids seem to be pointing out the healthier choices." says Penni. This summer the child care has used a couple of its youth volunteers to work on a project with some of the older children. They have been putting together a cookbook of healthy and easy meals and snacks. The hope is to sell the cookbook to raise money for future 5-2-1-0 related projects.
Wow! What an impact Lots of Tots Child Care is having on the lifelong habits of the children they care for! Let's Go! loves to hear about and share stories like this; we are proud to have Lots of Tots Child Care partnering with us in creating fun and healthy child care environments here in Maine!
Want to share the story of how partnership with Let's Go! has impacted your program/school/office? Find out how here.