Authored by Emily Cooke, early childhood specialist and Let's Go! program manager 
It's time again for National Screen Free Week, running from May 4 to May 10! Haven't heard of it yet? This is a national movement to encourage people to unplug and spend their free time playing, reading, daydreaming, creating, and connecting with family and friends.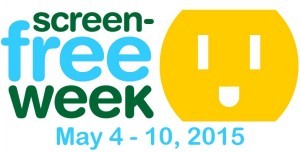 We know healthy habits are best adopted at a young age so we're kicking off this year's event with what the research is saying about screen time and our littlest citizens, children age 3 and younger. There is no question that young children learn best from real-world experiences, and there is also no question that they are growing up in a technology-driven world. So how do we best reconcile these two things?
Experts' recommendations for screen time are no more than 2 hours per day for children age 2 and older and zero hours for children under age 2. Yet, current statistics report that 64% of babies and toddlers are watching TV and videos for more than 2 hours each day. We know this is an ongoing challenge for parents and caregivers so, when you find yourself with little ones in front of a screen the best thing you can do is engage with them in that experience.
Ideally you'd watch or play with them but the next best thing is to simply talk with them about what they saw or did.  Become familiar with the characters, storyline or game objective and ask what happened over dinner.  Lastly, relate it to real-life experiences to help them make the connection between what they see on the screen and the real world; when you see a similar scene, point it out and talk about it.
Limiting screen time is tough, so here are some practical ideas for you to test out next week.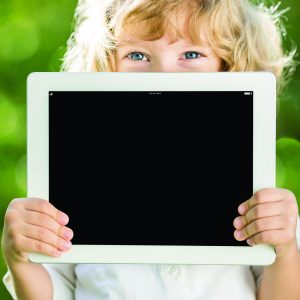 If you use screens to get dinner on the table, instead try letting your kids help out with meal prep and getting the table ready.
If you use screens to get other tasks like laundry done or bills paid, have a special item or box of items available to your children only during the periods when you need a minute kid-free.
If your habit is to watch a show together every evening, mix it up with a family game night or playing tag outside.