Guest Authored by Jackie Rogers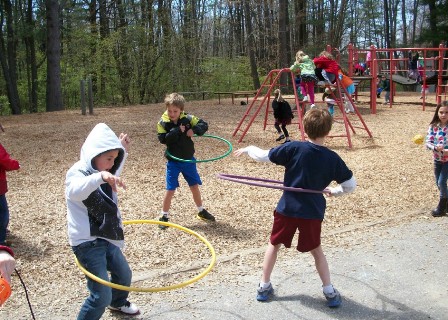 Bullying is a problem that many schools are currently addressing. As Let's Go! team members working closely with schools, we know how important this issue is for our communities. It is important for our students to feel happy, healthy and safe in their classrooms. Research shows that physical activity can help improve student behavior in the classroom. And now a new study has shown that quality recess and organized play can reduce bullying and increase feelings of safety while at school (read more about Playworks).
Much like the program in the study, Let's Go!'s 5210 Goes to School program helps communities make the kinds of positive changes that keep kids moving. We know active kids are healthier, and now we know that kids who are active during school are less likely to bully or be bullied. Let's Go! encourages schools to keep their students moving all day, every day! Schools can work towards creating a school travel plan that allows kids to bike and walk to school, engage with teachers on strategies for active learning, or create an open gym policy for students and their families after-school. Make a difference in your community – keep kids healthy, happy, and safe, by contacting your local Let's Go! Community Partner!
This post was provided by Jackie Rogers, Community Health Promotion Specialist at Healthy Casco Bay, serving the communities of Falmouth, Yarmouth, Freeport, Cumberland, North Yarmouth, Gray, New Gloucester, Long Island, Chebeague Island, and Pownal.