We've been waiting, and waiting…..for sunshine. The days are getting longer and the temps are slowly climbing but what we really want is a week that feels like summer. While we wait to welcome June, we're building a list of summer adventures. Here are a few activities that pack a double punch; they get you moving and expose you to fresh, healthy foods.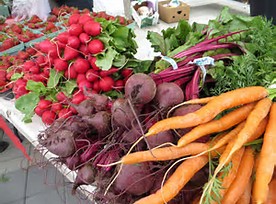 Farmers Market Walk & Herb Growing at Home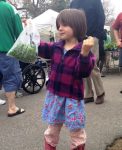 Find a local farmers market near you. Walk the market a few times, taking note of what looks good. If you're new to farmers market print our guide to Maine seasonal foods to help you shop what's in season. Make your purchases on your last lap through the market and to extend the fun beyond the market have each family member pick an herb they'd like to try. Once home, plant your herbs in an existing vegetable garden or build an herb garden in an outdoor planter(s). With just a little water and lots of natural light, you'll be able to add flavor to almost any meal. The kids can cut what you need and then watch the herbs grow back after each snip. For more tips on growing herbs you can do additional reading here or just ask your farmer for advice.
Berry Picking & Popsicle Making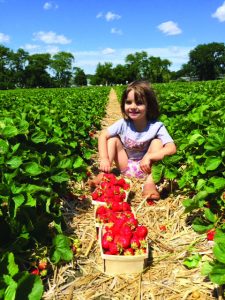 Throw on some lightweight clothing, grab your sunscreen, and make your way to a pick your own (PYO) farm. Harvesting your own fresh foods can be hard work, especially berries that require you to get down low. Search for the brightest berries and stock up to make sure a few cups actually make it home.
Once home pick your favorite popsicle recipe; Superhealthykids.com has a ton of healthy, easy, kid approved options. We tested a few and our favorite was this Strawberry Creamsicle. Just rinse your berries, blend em up (we added a splash of cream to the blender) and layer berries with Greek yogurt for the perfect summer treat.
Farm Visit & Snacks for Souvenirs
In addition to strawberries, blueberries, raspberries and blackberries Maine farms offer PYO peas, apples, pears, peaches, pumpkins, squash, and more. Local farms also offer dairy, meat, veggies, and flowers. July 23rd is Open Farm Day, an annual event in which farms throughout the state offer the public an opportunity to learn about the business of agriculture. Many farms will have demonstrations, samples for tasting and farm-raised products for sale. For more information visit Get Real Get Maine.
Before we know it classes will wrap up, school vacation will start, and we'll be enjoying Maine at its best.