Authored by Reegan Brown Let's Go! Program Coordinator
Easter is just around the corner…what's one of the first things that often comes to mind for our children this holiday? You may find it's the Easter treats! Easter traditions like Easter baskets and egg hunts are a fun and favorite event among kids of all ages, and yet much of the time these and other traditions can leave our children with an overwhelming amount of sugary snacks. If your household has always included plenty of chocolate bunnys, peeps and other candy at your celebration, it can be really difficult to change things up for healthier options. But if you want to start making new family traditions that are healthier without sacrificing any of the fun, there are things you can do THIS YEAR to start changing things up. Try adopting some of these tips into your Easter celebration to not only limit the sugar crashes your kids experience but still keep your Easter holiday fun and delicious.
Tips for Easter Baskets:
• Items inside an Easter basket do not need to be edible; try a jump rope, ball, new book, bookmarks, playdough or sidewalk chalk
• Consider home-made goodies instead of store purchased
• If you choose to purchase candy, smaller and less is better. Try only including a small amount of a candy you know is your child's absolute favorite.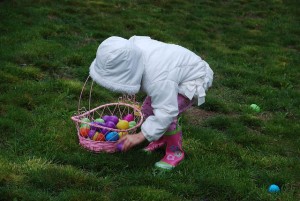 Tips for Easter Egg Hunts:
• Fill eggs with written 'passes' that include fun physical activities. For example: "Free Pass to the…Park, Pool, Beach, Playground" etc.
• Fill eggs with bunny graham crackers, dried fruit, nuts, or popcorn 
• Fill each egg with a clue about the next egg's location and an "action" that needs to be done while looking for the next egg. For example, hop like a bunny, waddle like a baby chick, etc.
• Fill eggs with spare change for your kid's piggy banks or 'kindness coins'
Do an internet search of "healthy alternatives for Easter baskets and egg hunts" and you'll have plenty of ideas to choose from! Remind your kids what this holiday is all about and try making your Easter a healthier one for the years to come.