Authored by Bethany Fortier, MPH
Community Transformation Coordinator, York District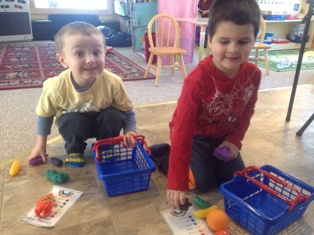 Through support from the Community Transformation Grant and Let's Go! York County, Country Kids Preschool in Lyman has made great strides in creating an environment that promotes healthy eating and active living. Each month Casey Marcotte, Country Kids Preschools Director, makes a Preschool Newsletter and Calendar for families outlining their plans. Starting this past September Casey has been including handouts from the 5-2-1-0 Goes to Childcare binder or the Nutrition Nuggets News. Casey has also found creative ways to increase movement, on these cold winter days, in a safe and structured way. Thanks to recent funding from the Community Transformation Grant the preschool purchased new movement games for the children. One game is a bean bag toss game that has animal photos on each bean bag. This has been a favorite! It's a fun mystery as to which animal movement the children choose and have to act out! Another fun game Casey picked was an alphabet game. It's a fabulous game to reinforce alphabet learning while moving their bodies around on the mats. This game has many variations. The children enjoy "freeze dancing" around on them, hopping from mat to mat and when the music stops the children "freeze" and state the letter/sound they are standing on. Another simple yet favorite movement game the children have enjoyed is placing orange cones around the classroom (see video below). Teachers race to knock the cones over while students race to stand them up!
A constant goal of Casey's is to offer a healthy variety of snacks and new foods. Recently the children enjoyed a "friendship snack". Girls were asked to bring a fruit while boys were asked to bring their favorite cracker. It was a fun way to get the children involved in creating a healthy snack together by bringing what was a favorite for them and maybe something new to another child. Through funding from the Community Transformation Grant, the preschool also purchased grocery shopping baskets and use them for a variety of games. The "rainbow food" shopping activity is educational and fun. For this game Casey hides foods the colors of the rainbow encouraging "shopping for variety & colors". Foods are placed all around the class and children go back and forth around the room, shopping for the rainbow, until they've found an item of each color!
"I love that 5-2-1-0 [Let's Go!] and the Community Transformation Grant has been an amazing resource for Country Kids Preschool and our community," says Casey. "Nutrition and fitness have always been a passion of mine that started when I was a child. It's very exciting to me to have a program working with me, sharing the same passion and excitement."