We recently celebrated National French Fry Day, a whole day dedicated to one of our favorite foods. Whether you prefer them with a sprinkling of salt, dunked in ketchup, crispy, curly, or waffle-like, French fries are a beloved indulgence. And they're everywhere. We see them on almost every menu we encounter—paired with sandwiches, burgers, chicken fingers, or even loaded with cheese and bacon as a meal all on their own. As a result, the average American chows on approximately 29 pounds of French fries each year.
Unfortunately, this irresistible food is no stranger to health risks. A new study published last month in the American Journal of Clinical Nutrition linked eating French fries more than twice a week with a higher risk of death. The study examined the potato consumption of 4,400 people between the ages of 45 and 79 for eight years. These results do not come as a total shock, as it has long been established that French fries are not so nutritious. These oily treats are high in saturated and trans-fats, and also often contain a lot of sodium, which can lead to high cholesterol and an increased risk of heart disease as well as chronic conditions like obesity, diabetes, and hypertension.
Don't worry yet though, French fry lovers, as fries can be enjoyed as an occasional treat, especially when paired with healthier options, like a vegetable-filled salad with grilled chicken. You can also get your French fry fix in the form of baked alternatives to make them a little healthier. We've put together a few recipe suggestions for baked French fries that you and your kiddos can enjoy. They make a delicious (and healthy!) side dish. Let us know your favorites!
Traditional fries:
For crispy fries, cut thin slices of potatoes into matchsticks- leave skin on for added nutrients!
Soak in water for an hour (skip this step if you're using sweet potatoes)
Pat dry
Drizzle olive oil, add some salt and pepper to taste (limit the salt)
Bake them directly on a cookie sheet in a single layer and not too close together at 400 degrees for 20 minutes, then 450 degrees for another 20 minutes
For softer fries, cut thicker slices and bake for 40 minutes at 400 degrees, turning once midway
You can also do this same recipe with sweet potatoes (a Let's Go! favorite).
If you're more of a potato chip kind of person, try this recipe at your next barbecue: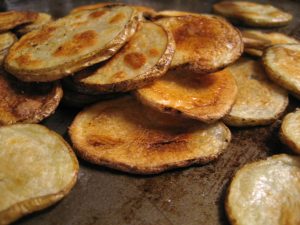 Cut potatoes into thin circles
Drizzle olive oil, add garlic salt or your favorite spices
Bake them on a single layer greased cookie sheet at 525 degrees for 15-20 minutes, flipping halfway
Mix it up with some seasoning to create custom flavors:
Olive oil, garlic, onion, pepper and paprika
Sweet potato fries with a little salt and cinnamon
Sprinkle toppings such as parmesan, fresh herbs like parsley, oregano, or lemon zest
Fries don't have to be made with potatoes. You and your family can get your 5 fruits and veggies with these crunchy parmesan zucchini fries:
Cut zucchinis into ½ inch strips
Stir ½ cup whole wheat bread crumbs and ¼ cup grated Parmesan cheese together in a bowl
Whisk 2 eggs in a separate bowl
Dip zucchini strips into egg mixture, and then roll in bread crumbs/Parmesan cheese.
Bake zucchini fries at 425 degrees for about 15-20 minutes, turning halfway through.
Parmesan green bean fries are equally as delicious:
Spread room-temperature green beans onto cooking pan
Drizzle olive oil over the beans and add garlic powder, salt, pepper, and grated parmesan cheese.
Bake at 425 degrees for 10-15 minutes, until golden-brown. Broil for the last two minutes for a crispier fry.
Next time you're craving some greasy French fries, skip the drive-through and bake up some of these yummy "fry" alternatives!
Some recipes adapted from Food Network.