Authored by: Adrienne Gallant
Let's Go! Knox Coordinator
Every weekday morning, I wake up and figure out what I'm going to make to put in my children's lunch boxes for school and daycare. I always make sure that each lunch includes a healthy snack (or two, depending on the day), a healthy lunch with some form of protein, whole grains, plenty of fruits and/or vegetables and little to no added sugars. I pack these lunches with plenty of thought and care and then run out of the house and wait with my first grader for the bus, drop my other daughter off at her childcare and then head into work.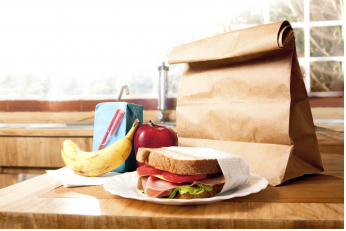 Have you noticed who I forgot to make lunch for? In case you didn't catch it, here's a hint: it's the person writing this blog! That's right, ME!!! In all of the hustle and bustle of the morning routine, which usually involves some cajoling and refereeing, I usually forget to pack a nutritious lunch for myself. I justify this by thinking "Well, at least my children will be energized for the day, I can figure something out once I'm at work." After talking to many parents in the same situation, I've decided that I'm not the only one who goes through this. You might be thinking, "This is exactly what I'm going through but how do I change it?" Luckily I have some thoughts on that.
The first step is to make a list on the weekend of what everybody's lunches are going to look like for the upcoming week. From that menu, you can create a pretty accurate grocery list. Remember to include a form of protein, some whole grains, vegetables and fruit. Also keep in mind that leftovers make a wonderful lunch the next day so plan in a couple of leftover lunches for yourself (your kiddos might not have the ability to heat up their lunches but most workplaces probably do). You might be thinking, "This all sounds great, but what does a lunch with protein, whole grains, fruits and vegetables actually look like?!?" Here's one of my favorites:
• Burrito made with ½ cup black beans, ½ cup brown rice, salsa and 2 tablespoons low-fat plain Greek yogurt on a 6 inch whole wheat tortilla (feel free to add any other vegetables you like on burritos like lettuce, onion, and peppers, too)
• Orange
• Tea, coffee or water
Click here for more examples like this one (and a shopping list)!